Why get your card with us?

Don't just get started. Get started right! Our trained team of Budtenders can recommend dosage and find the right product to give you the best results. Apply for a new or renewed OMMA card with Med Pharm OK and receive a Bag of Goodies.
Card Recommendations will resume August 2, 2023, from 10AM to 2PM Wednesday Through Saturday!
6 Steps to Get Your Card with Med Pharm
Oklahoma regulation requires you to keep your OMMA card with you at all times. Not only are you required to show this card at any dispensary when making a purchase, but just like your driver's license, it protects you and shows that you have the proper documentation.
Step 1: Enrollment
Schedule an appointment or Visit Med Pharm OK and bring your Oklahoma Driver's License or Oklahoma ID Card.
You will need an email address, but we can help if you don't have one.
You'll come to our store and meet with our doctor. It only takes a few minutes!
If you need assistance, you can call or text our physician at 918-902-5338 during appointment hours (Monday thru Friday: 11am – 6pm, Saturday: 9am –1pm). Outside of those hours, leave a message, and your call will be returned promptly.
OMMA charges a fee of $100 with a reduced price of $20 if you have Medicaid, Medicare or SoonerCare, plus a $4.50 processing fee.
Our physician recommendation fee is $75. That includes your recommendation, plus we will help prepare and submit your application to OMMA on your behalf.
Get your Bag of Goodies
Step 2: Wait for your card
You should receive an email within a business week noting OMMA received your application.
You should receive your acceptance email within 2–4 weeks. It's possible you'll receive an email stating something needs to be resubmitted. If that happens, call us or come by, and we will take care of it.
Once accepted, your card will arrive in the mail within 1 to 2 weeks in a plain white envelope.
Step 3: Use your card at Med Pharm
For your First Time Visit, you need to show your OMMA card and Oklahoma Driver License.
Our Budtenders will assist you with all your questions and shopping needs.
What are the requirements for a medical marijuana card?
A patient who is eligible for Oklahoma's Medical Marijuana Program must be 18 years old, with valid proof of Oklahoma residency (utility bill, Oklahoma Drivers License, or Oklahoma State ID), valid proof of identity, a full-face color digital photo, and a licensed physician recommendation form. This form must be dated within 3 months of a patient applying to the state program. Visit the Oklahoma Medical Marijuana Authority (OMMA) website for full details.
What are the qualifying conditions?
Unlike most of the medical marijuana programs across the country, the Oklahoma program does not have a list of qualifying conditions. Doctors are allowed to recommend patients if they think medical marijuana is a good treatment option. Therefore, you can receive a recommendation for any condition they believe is a fit for a medicinal cannabis treatment.
Will my insurance cover cannabis?
No
How long does the application process take?
A patient must submit an application on the OMMA website, and if all of the information is completed correctly, a medical card will be mailed within 2–4 weeks of submission.
How much is the medical marijuana card?
The cost for the physical medical cannabis license from the state is $100, and it lasts for two years. The cost for the medical certification varies from doctor to doctor. With Med Pharm, you can see our doctor for your certification, plus we will submit all required documentation to OMMA on your behalf for only $75. (This does not include the $100 state fee)
Schedule your OMMA card appointment with Med Pharm OK
Is there a reduced cost medical marijuana card?
If you have proof of Medicaid (SoonerCare) or Medicare enrollment, the cost is reduced to $22.50. (Does not include physicians fee)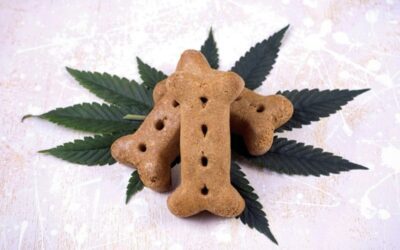 LINK TO ORIGINAL ARTICLE Did you know that CBD can treat dogs in much the same way as humans? Recent studies have explored the effectiveness of using CBD to help dogs live better, healthier lives. CBD is taken from the leaves of cannabis plants and used to ease...
read more